Tribute
David W. Gifford
01 May 1946 - 03 Aug 2013

It is with great sadness that we advise our friends of the untimely death of one of our founding musicians, Dave Gifford.
For many years, Dave and Bob played as a duo, and were synonymous with Muckle Flugga; however, we have been fortunate to have been joined by some other fine musicians during our melodic journey, and we were especially happy when we were able to recruit Dave's daughter, Claire, to perform with us in 2011.  Dave's delight was obvious as he saw Claire integrate and develop her role within the group.
Seldom have individuals enjoyed such a mutual rapport on numerous, extensive, and diverse topics - a key component of the group's cohesion.

Dave was our inspiration, musically, and his talent on fiddle, whistles and flute shaped the style that we adopted as our own.
He loved performing, and was always delighted to play for an audience - whether it be small or large.

Dave battled strongly against the cancer that gave him such a hard time in his last years.
He had an infectious optimism - his 'glass of life' seldom went below "half-full"; and his absolute love of music and performing did so much to sustain his spirits during some of the darker times when he suffered the pain of this condition.

We offer our thoughts and support to all his family.

Undoubtedly, the world has lost a great musician.
Principally, however, a great many of us have lost a very, very dear friend.

We miss you so much, Dave.
Lasting Memorials
This page will remain on our web-presence as our tribute to Dave.
His (and our) friends in Galway have paid their respects to him also.  A large group of musicians gathered at Killorans Bar, Salthill, Galway on the evening of his funeral to honour him in a way which was both fitting and moving.  They toasted the memory of a man who had touched their lives in a very positive way.  They played music which was dear to him and them far into the night.
The poster below was created to advise of the event, and the signatures on it are a record of the musicians who attended and played that night.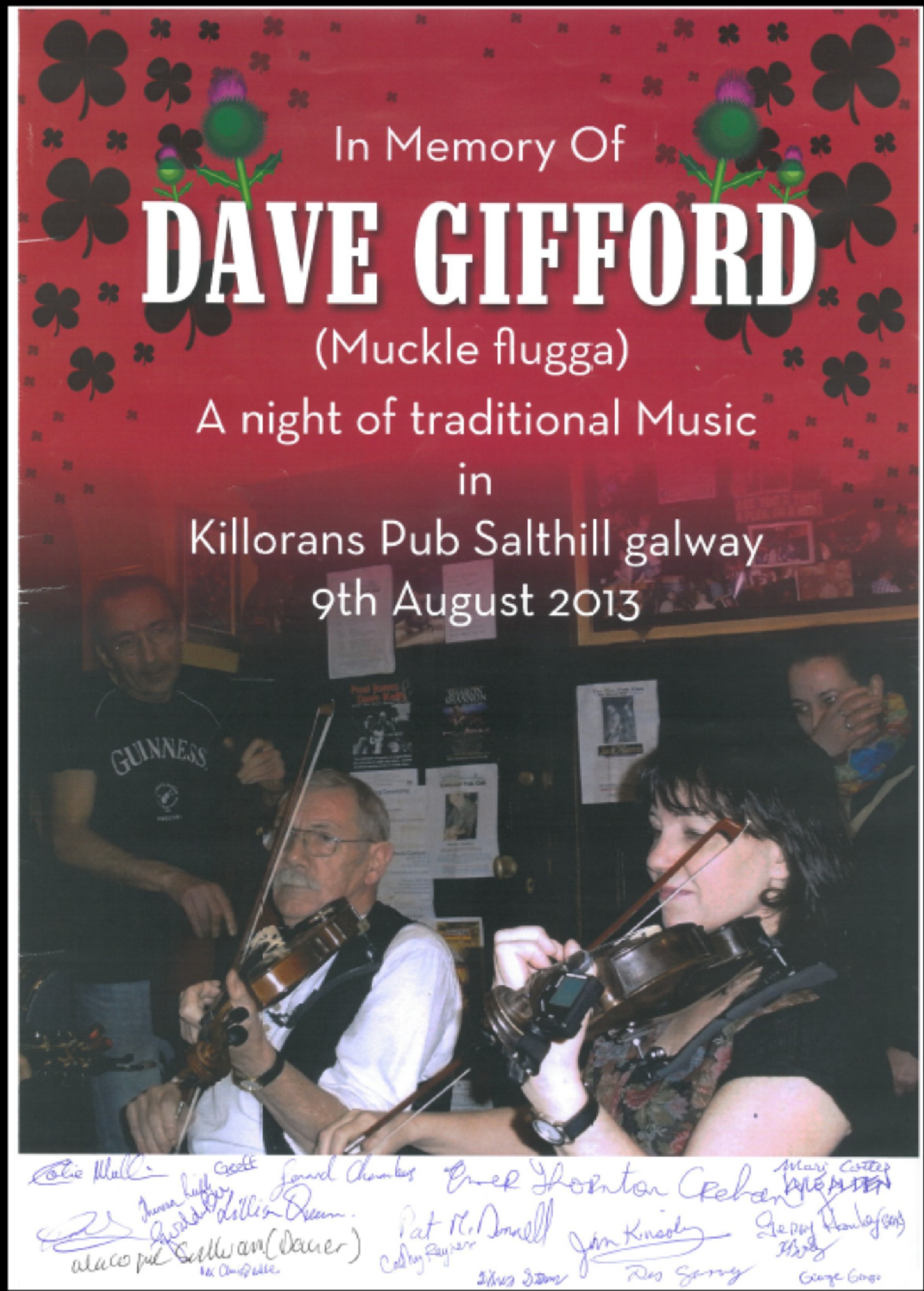 In September 2013, a photograph of Dave was installed on the wall of the Crane Bar, Galway.
This is a wonderful and lasting tribute to him, and one which his musical modesty could not have allowed him to imagine.
The Crane Bar is renowned within the Traditional Celtic Music community as a significant performance venue.  It also features in the Lonely Planet booklet "Great Bars of the World" - see the extract of the section on Music Bars.
The Crane Bar always held a special status for Muckle Flugga too.  From our earliest visit to Galway, it became a "spiritual home" within the city that was also a "spiritual home". This adds a dimension and significance to the inclusion of Dave's picture here - a place where we have enjoyed great times, playing good tunes, with the best of musicians.

Crane Bar Hall of Fame
Photographs on this section of the wall (L-R)
Paddy Fahey; Dave Gifford; Kevin Burke; Seamus Creagh
We were delighted to be present for the inauguration of the photograph.